I, Yvonne De Viller, 'create' with Stained Glass. With over 25 years of experience, I take this medium to new 'places' with many of my works incorporating a 3D effect.
The skill necessary to enact this comes from and through the desire to challenge myself further with every project.
My portfolio includes participation in many esteemed art events and includes my work in a special feature on the Marilyn Denis City Line TV show many years ago.
I see a bare window as my canvas of possibilities. Subtle nuances emerge during different hours of the day from within the quality of glass used that add to the ever-changing magic of the scene.
It means everything to me when someone can relate to the subject matter of my work or have their feelings and senses transported to a 'special' place….
It's a very exciting art-form and I love it!
CONTACT INFO:
e-mail:
vech@sympatico.ca
website:
www.yvonnedeviller.ca
tel.#: 519-925-1323
Studio near Shelburne, Ontario.
Please call for an appointment to visit my showroom or to find out about my participation in future events.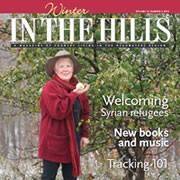 Also see this
In the Hills (Winter 2016-2017) article.